Affordable
No residential costs, no counselling hours, no overheads means we can maintain and deliver the highest calibre courseware at a dramatically reduced cost to you. We could charge you triple the offer price and it would still be cheaper than going into a rehab.
Evidence-Based
Each module is based on the hard facts of case studies on psychiatric recovery and addiction treatment. No mumbo jumbo or rhetoric. The foundations of recovery encapsulated into a simple online course brought to you by one of the worlds leading addiction treatment centres.
Custom Made For You
No two people are the same. Thus we have designed the online recovery program to adapt to your unique requirements. Learn at your own pace, in your own way, in the privacy of your own life. Each module accessible wherever you have an internet connection and a device to view the media.
5 Free Modules
Right of the actual course outline, we give you 5 free course modules so that you can see exactly how easy the system is to use and how valuable a couple of our modules can be. Only a few minutes of each module will provide you with instant insights into the modules that follow.
Your 12 Month Pass, With Exclusive Material Access
A exclusive access recovery content feed will keep you updated on your progress and provide suggested content based on your intent interactions with the Recovery Direct programme. Why churn through the misinformation when you can have specific and exclusive access to information that is most relevant to you?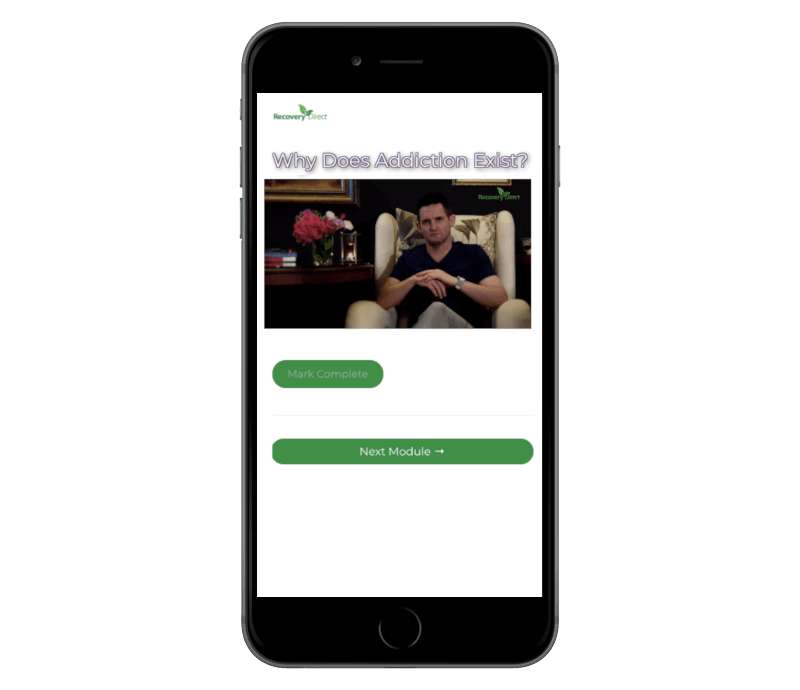 Anytime, Anywhere, Any Device
Simple courseware available on any device whenever you need it. The entire program is custom designed to fit into your mobile lifestyle. No appointments, travel, extra cost, downloads or hassle. The recovery program ad-free, distraction-free, simple to use modules that you can watch, pause, replay, listen or read at your own pace and wherever you are, whenever you want and in absolute privacy.
THE ONLINE PROGRAM
In this series, Reto Reolon walks you through the education portion of the exclusive Recovery Direct treatment program. This one of a kind program has had unparalleled success in the field of effective addiction treatment and is based on the life work of the most respected addiction psychologists and treatment therapists in the world today.
THE COURSE MODULES
90 video modules courseware includes the foundations, summaries, insights and key learnings from innumerate recovery professionals tested in practice and provides a plain English, fast-tracked solution for anyone looking to understand the driving forces of addiction and how to address these challenges in a meaningful and progressive format.
DYNAMIC ACCESS
The online treatment program provides you with 24/7 unrestricted access to learning material that is easy to understand, unobtrusive, individualised and absolutely private and secure. The module progression enables you to track your progress, re-run lectures on demand or progress to new modules in line with your requirements.
Based On Thousands of Real In-Patient Sessions
The Recovery Direct online programme was borne not from a single source but from an ongoing and collective discussion on the most researched, up to date and appropriate methodologies for helping people to construct the psychological fortitude to beat addictions on a long term basis. The day to day operation of our premium centre has enabled us to gather these insights and tailor them for you into a potent online programme.
This programme takes the format a non-12 step, psychoeducative programme that is rooted in the centres complex trauma resolution initiatives.
Rather than sitting through a 60-minute therapeutic counselling session, each topic we have digested into a few minutes of free-flow conversation. This is intended so that #1 material
"This is course is absolutely incredible and everything I needed. From being an isolated alcoholic to getting into actually understanding the mechanics of my addiction to alcohol. I cannot recommend the Rethinking Addiction Recovery course enough, it has literally changed my life."
Wendy Wilson (GB)
"This Rethinking Addiction Recovery course is all the things they should have taught you in practical psychiatry but left out. It's an incredible insight and understanding of the addiction processes and I would highly recommend it for any one working in the field of addiction treatment as a go-to guide."
Dr Miriam Kimpel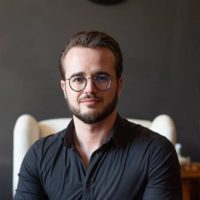 Gary Breytenbach
Managing Director of the Recovery Direct Treatment Centres and keen fly fishing enthusiast Gary is a qualified charted accountant and a respected recovery community leader. Co-Founded Recovery Direct treatment programmes and has been the leading force into the advocation and expansion of the complex trauma-based treatment model in South Africa.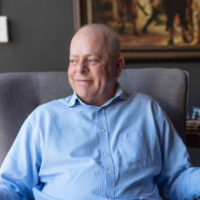 Vaughan Pankhurst
One of South Africa's leading addiction recovery specialists Vaughan founded the principals of addiction treatment through a care based continuum that drives the Recovery Direct centres today. Foresight and strategic planning of treatment models has been borne from Vaughan's specialised insights into critical trauma recovery and his own life experiences with alcohol use disorder.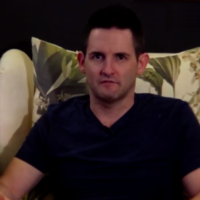 Reto Reolon
Specialist Recovery Lecturer
Reto heads most of the psychology educational lecturers at Recovery Direct's centres and works within the clinical team on establishing and implementing appropriate and impactful care continuums for clients. Reto also features as the author and presenter for the online recovery program at Recovery Direct.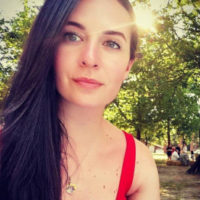 Paula Langes
In my opinion, this is the greatest advance of addiction treatment is the advances made in psychology since it's creation and is the most outstanding course on the market.
"This recovery course is set in a well presented, hard-hitting, easy to follow video format that approaches the psychology of addiction in plain simple English that anyone can use or understand. The lessons are easy to navigate to and from and the course is designed to be easy for non-technical users such as me."
Adam Simpler (AU)
"I had no idea trauma played such a massive role in my struggles with alcohol. On signing up with the Recovery Direct online programme I have finally understood what has driven me to excessively drink each evening. I have stopped my abusive drinking behaviour and have finally made some real inroads into recovery after 40 years of (failure) learnings!"
Sonja V (RSA)
VIEW THE FIRST 5 COURSE MODULES FREE REGISTER AND ACCOUNT
Register a free Recovery Direct account today and access the first 5 course modules for free.
"Before I bought this recovery course I was sure it was yet another life coaching rehash course, but as a friend had recommended it I went ahead anyway. I'm very pleased to report that this is not some fly by night, life coach trying to make a quick buck out of addiction recovery. This course is everything it says on the box and more. This course will save you countless hours in understanding the outputs for addiction therapy."
Francois Lubbe (RSA)
"As a pastoral counsellor, my duties include a broad range of functions to the community. While my faith compels me understanding the psychological dynamics of addiction treatment is an absolute must. This addiction recovery course is an invaluable insight into addiction psychology and has helped me immeasurably in my work with our congregation."
Theuns